Artist | Alia Penner
Inspiration

Photographer: Jeaneen Lund
Alia Penner is one of those jack of all trades type of souls.  This LA-based artist does it all: fine art, illustration, design, and photography.  After seeing her stunning digitally printed dresses under the name of MÖMBÏ at Beautiful Dreamers in Williamsburg, I had to figure out who the genius mind was behind these designs.  Penner's work makes you want to travel to her acid flower girl time-warped world while listening to a Neon Technicolor or "Sunnies Only" playlist along the way.  In her very young and already successful career, she has been featured in iLove Magazine and collaborated with OBEY, Lula Magazine, David Mushegain and Colette.
Below are images of Alia's work and a few questions she so kindly answered for me about her whimsical life and world.  Enjoy!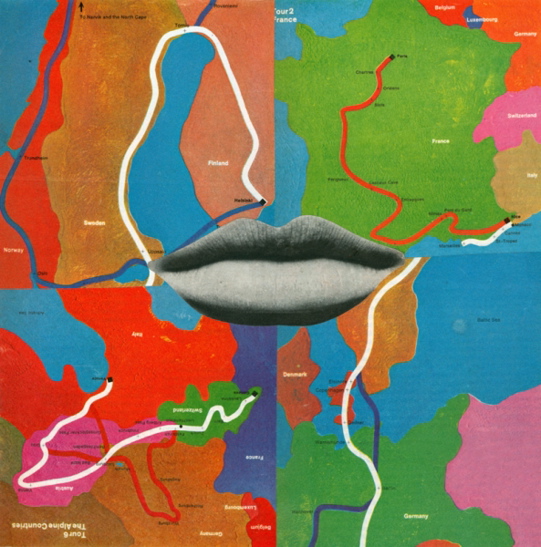 Traveling Lips (2011)
LC: What project do you feel you've grown through and enjoyed the most in your young and successful career?
AP: There isn't one in particular, it is always a new experience.  Getting to make something you love & have someone else really love it too, who could ask for more?  This summer when I was in Paris painting a mural at Colette, I had a flashback of walking in there 7 years before, right before I started college & it was such a trip.  I went to art school, did projects that I loved & believed in & then there I was with a paint brush alone in the store painting stars on the wall.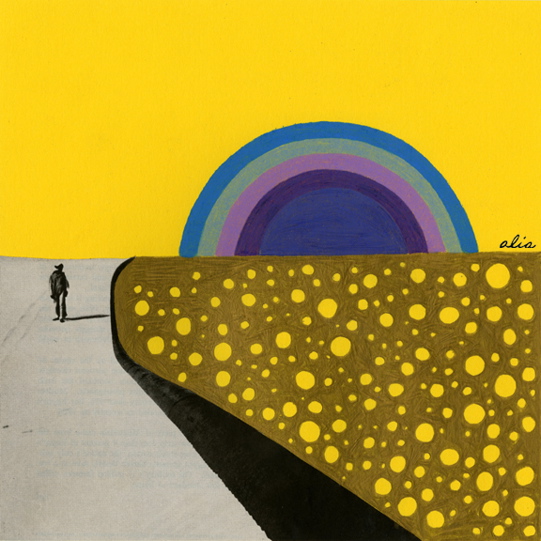 Saudi Arabia (2009)
LC: Are you planning to continue development within your MÖMBÏ line?
AP: Wearable art is the ultimate!  Only 10 of those dresses were made for the show in Paris.  A lot of my inspiration comes from textiles & prints of all decades.  Sonia Delaunay & Zandra Rhodes are two of my very favorites.  I would love to make more limited edition original Alia dresses.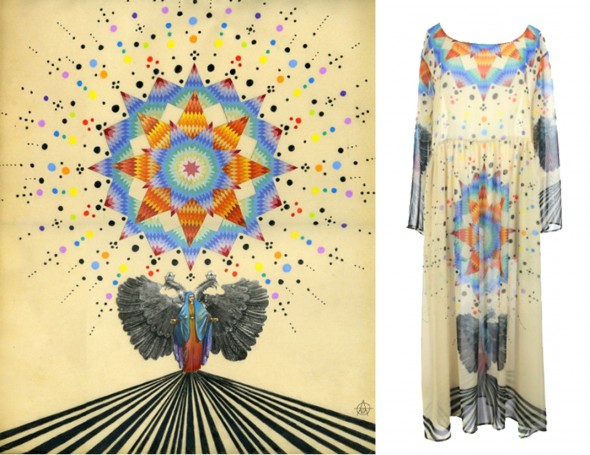 Cosmic Love (2009) / Cosmic Love MÖMBÏ Print Dress (2011) 

Sail '77 (2009) / Sailing '77 MÖMBÏ Print Dress (2011)
 LC: What is your sun sign?  Do you feel any of the sign's characteristics shine their light through your work?
AP: Capricorn.  I am very determined & only want to keep climbing, making, building, creating more art.  Bigger & brighter, like the sun.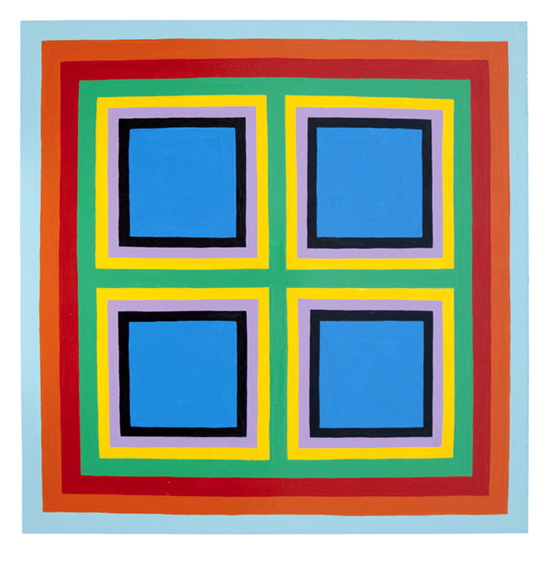 Blue Square (2011)
LC: Do you have any sort of rhythm or pattern when going through your creative process?
AP: When I paint it's meditative.  I don't really sketch out what something is going to look like, just let the colors go where they want to go.  Looking through books for material to cut out, when I find someone or something it's because I see them in a different world than where they are. 
Success (2009) for 944 Magazine
LC: Should we be on the lookout for any upcoming projects you would like us to know about?
AP: A lot of collaboration projects with some very interesting people coming out next year.  I am also working on some new paintings of goddesses. Hopefully there is a show in my future.
Black Hole (2009)
LC:  What is your most valuable item in your collection of Earthly possessions?
AP: I have a blanket that's on my bed that was a present from someone very dear to me. It's black with these bright pink, orange & white flowers embroidered on it.  Sleeping under it is like riding a magic carpet into your dreams.