Interview | Andi Bakos
Inspiration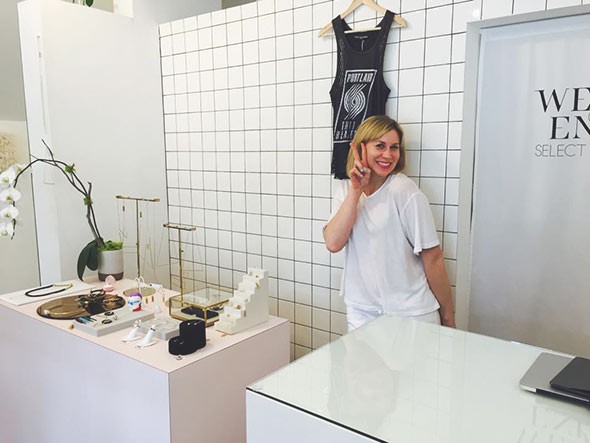 Today I am very excited to bring you this interview with one of the most amazing people I know.  Andi Bakos is owner of West End Select Shop, a super cool boutique in the heart of Portland inspired by her life abroad in Tokyo and her love of fashion. Her personal style is wild, eclectic, and fun.
What's selling in the store? Of course we're especially interested in terms of print, pattern and graphics.
Currently we have this print story by a brand called Nanushka from Budapest. They do the best prints because they always tell a story! This season (SP/SU15) the print was inspired by aboriginal folk tales so you catch glimpses of koala bears, snakes, sun rays and trees in the print, but it's done in a more abstract way. Another thing I love about this print story is that the repeat is large so each garment carries a different part of the print. We'll have a size run of one shirt and they all have a different part of the print featured. It's been selling really well, people love to treasure hunt in the print to find new motifs!
What are some of your favorite print or patterned pieces to wear or admire right now?
We got this denim dress in the shop from a Berlin-based label called Starstyling and it features an allover print of some alien viking code language and it's all done in a reflective vinyl. I've been enjoying wearing that one, especially if someone takes a flash photo of me – then I really LIGHT UP!
Above: West End Select Shop, Nanushka dress, Starstyling dress
How about color? Any colors or combos that are making you feel excited?
Cool pinks are my favorite current neutral. I looks great next to almost every other color. I also love mixed whites, like wearing pure white with off white. I think that's so very chic!
When you're buying pieces for the store or your own wardrobe, how does print and pattern infuence your decision?
I am ALWAYS on the hunt for prints! Currently there is so much minimalism clogging the fashion feed, I am simply yearning for prints and color! The best thing about a print is that it does a lot of the work for you. A great print can make an entire outfit come to life. The rest of your look can be simple and your print can just be your power!