Portland Fashion | Orland Nutt
Inspiration
Orland Nutt (his real name) is a film maker, eccentric style lord, and foodie that lives among us here in Portland. It's always a treat to see what mad, hilarious and brilliant outfit he's put together.  On top of that, he's my go-to guy for food recommendations, so pay close attention to the restaurants he mentions from his stay in New York.  He's also a fabulous photographer, as seen in the photos in this story.  Below are some questions from me and answers from Orland.
Where do you get your clothes?
I get most of my clothes and accessories from Ebay, Forever 21, Buffalo Exchange, local thrift and vintage stores.
How did you dress as a child?
I remember I didn't like shirts with words when I was young.  I wasn't very stylish or into clothes as a child.  I had lines buzzed into my hair one year, but that was just copying a friend who did it, as a gesture of friendship, like trying to form a small gang.  In middle school I wore silk shirts and ties with murky mottled patterns on them.  I dressed rather plainly at the beginning of high school, maybe just jeans and t-shirts.  At some point in high school a friend of mine told me "you need to develop a style", and around the same time another friend introduced me to her favorite thrift stores.  After that, I began dressing in 3 piece disco suits often with gold chains, and car salesmen and vintage college professor styles.  Pretty dorky, but fun in a way that would make people smile or laugh.  I think I still am attracted to entertaining with clothing.
I was happy a few weeks ago when I noticed a woman in a car surveying my outfit, her face was serious while looking at my shirt and then pants, but after getting to my pastel pink patchwork shoes and taking it all in, she cracked up.  I have some giant gray Adidas that look like moon boots/hooves that make me laugh just to put on and even more to walk in.  A friend at work reacted to one of my outfits recently saying "at first I thought this doesn't work at all, then I looked at each thing again separately and realized they all went together and thought dang-it, it works!"  Sometimes I put too many unusual things together and everything just kind of disappears.  I remember some book talked about dressing so fancy and jeweled that people just can't SEE you, the book referred to this as "Dazzle Camouflage".
What are your favorite prints?
I love Ikat prints from ethnic minorities (Uzbek, Hmong, etc) and richly colored batik.  I like old japenese textiles a lot.  I saw a print with a bunch of gorillas on a Bernard Willhelm shirt recently that I loved.
Who are your favorite artists/designers?
My favorite artists are mostly film makers, or people who have spent a lot of time working in film.  Jack Smith, the inventor of modern performance art, Sion Sono the brilliant Japanese poet turned filmmaker, James Broughton, the pansexual love celebrating 70's poet and filmmaker, and Tatsumi Hijikata, the inventor of Butoh dance and an amazing actor, are among my favorite artists.  In terms of clothing I have been excited by Bernard Willhelm lately because he makes some interesting clothes for men, whereas most menswear designers seem to stick to classic tailored pieces.
What did you think of the new Alexander McQueen exhibit in New York that you saw recently?
The Mcqueen exhibit was amazing.  It was really inspiring and overwhelming.  One thing I remember best was a single disc of wood tied to a persons nose.  It was like a mouse ear for the nose.  I really liked the room of red royalty inspired clothing and red beaded page slippers.  I loved seeing his fashion show videos, especially the one inspired by the chess game from the first Harry Potter book, and the one inspired by Joel Peter Witkin.
Do you love New York?
I had a great time in my recent visit to New York (with his girlfriend, style goddess and amazing fashion designer Emily Ryan.)  We stayed in the East Village and all the restaurants and shops we wanted to go to were very near by.  Food highlights were Ippudo for ramen, Soba-ya for Japanese vegetables and soba soups, HanGawi for Korean health food, Thelewala for Indian snacks, Dumpling Man for soup dumplings, and The Juice Press for amazing smoothies every day.
What's your dream place to live?
I don't exactly know where, but I would love to live in a warm climate in a house with rooms at slightly different levels, with an exotic garden full of mango, coconut, banana trees, fenugreek greens, and a curry plant to cook Indian food with.  Ideally I would live outside of LA somewhere, in one of those nice areas where rich old hippies live.
Are you really as happy as you always seem?
I am usually happy.  I get down sometimes but I usually attribute feelings to the weather, moon phase, or telluric currents combined with conditions within my life that may need changing.
Do you try to channel somebody or something when getting dressed in the morning?
This past year I have been really inspired by Mughal royalty from India. I have been excited by the culture, food, art, architecture, clothes, and the displays of wealth and beauty by the rulers. I read "The Mughal Throne" by Edward Eraly that covers Indian history during the 1600s – 1800s and I loved it!  Shah Jahan, builder of the Taj Mahal had a throne built that had a worth in materials and encrusted jewels greater than the entire Taj Mahal.  It's called "the Peacock Throne".  His father, Jahangir had a different set of rings to wear for each day of the year.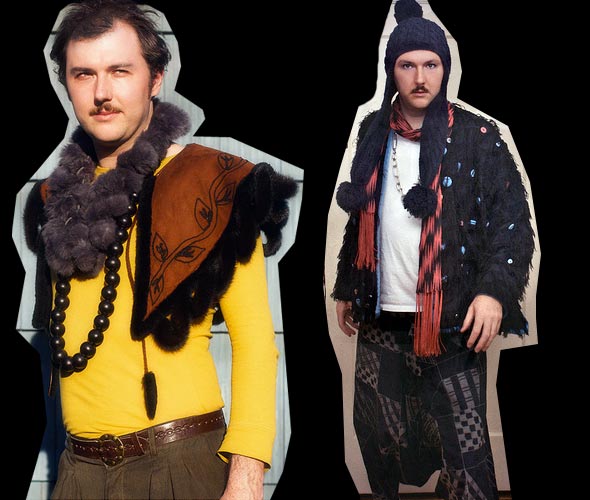 I am currently reading the "The Adventures of Hamza", a classic Persian story that was translated and reprinted many times by Akbar, one of the greatest conquerors during the Mughal period.  Over the course of ten years he had hundreds of paintings made depicting various passages from the tale.  The portrayals of royalty in these paintings as well as portraits of the Mughal rulers such as Jahangir and Shah Jahan are major inspirations for me right now.  There is a Bollywood movie depicting Akbars life starring Hrithik Roshan that is full of amazing buildings and outfits, and a fun addition to the texts I have been reading.
My closet is filling up with various styles of harem pants and jewels!  I recently bought a cat ear turban and several scarves specifically for turban wrapping, possible Lawrence of Arabia style.
See some royalty examples here and here.
Other inspirations which influence my style include futuristic space age, goth club, barbarian-warlord, draculas, and the Japanese yamamba style.
What are you working on now?
I am currently working on a video using a poem by James Broughton.  It is set in a rocky desert backdrop built from pictures I took at Indian Horse Thief Flats in the Columbia Gorge.  The performer smashes through rock piles and pops in and out of scenes to deliver lines from the poem.  It's almost done, and I am really excited about it.  My friend Matt Marble is currently working on music for it, and I have just a little more color correction to finish.  I started making short poetry videos last year.  I made a couple from The Pillow Book by Sei Shōnagon.  Other videos feature poems by Chinese poet Su Tung P'O and James Broughton.  I usually try to make videos that seem to me unlike anything I have seen before.  I try to combine elements of things I like from other films and art and music and make something that feels new.
I love making movies and have many more planned, with choreographed dances, love stories, singing, cooking and fantastic outfits!
You can see Orland's movies here.
-Claudia