Profile | Anne Strandfelt
Inspiration
Effortlessly chic and inspirational are just a few of the words that come to mind when we think of Danish graphic designer, Anne Strandfelt. As one half of design studio, LA Graphic Design (known as the go-to firm for fashion branding and campaigns in Denmark,) Anne takes time to talk with us about her daily inspirations, prints and more. Somehow she forgot to mention her love of cats (she has two) and that she's also starred in a few television shows. But, no worries as she does share many other personal insights…
1. Tell us a little about yourself.
I was born in Copenhagen in 1977, moved to London in 2000 to study my BA & MA in Graphic Design at Central Saint Martins…I absolutely loved living in the UK but I missed my family and friends too much in the end, so I went back in 2005. Returning to Copenhagen I worked at a graphic design agency for a while where I was lucky to meet my now business partner Lizet. I then worked as art director at a fashion magazine here called Cover and Lizet started her own company. After about 1,5 year with tough deadlines, fashion-stress and lots of experience, Lizet and I decided to start our own graphic design agency called LA Graphic Design. And that's where I am now, still going strong – and how lucky that is!
2. How would you describe your personal design style?
Well, the work we produce is often described as being quite 'feminine' (as in not too hard edged and masculine as other graphic design here in Copenhagen. Helvetica is BANNED at LA) and empathetic … and even sometimes with a vintage touch. My own personal graphic style is very diverse and can take on many shapes, but I love humour, black & white and crisp typography.
3. What are some of your influences and sources of inspiration?
Ohh  Art, images and feelings…music and literature. I love artists such as Ed Ruscha (for his quiet revolt), Paul Mccarthy (for his total obscenity) Sophie Calle (for her delicate sense of aesthetic in both image and word) I love reading Kafka (for its absurdity, that I find very amusing) and photographer Viviane Sassen's images are beautiful, very odd and alluring. And I looove jazz, Miles Davis, John Coltrane, Thelonious Monk…it makes me super energetic and really happy! So yes, I suppose that my main inspiration is being touched by emotion! And it surely comes in many forms!
4. Do you have a favorite object that inspires you?
Not really … Im not really inspired by 'objects' per se. But I love looking at houses, old street signs, vintage packaging (boxes, perfume bottles, cigarette packages etc), books and documents from the old days.
5. How does surface design affect your creativity?
Oh a lot really, I love patterns and as with jazz it has an energetic effect on me. It's vibrant and lively. It can inject life! I was really taken by the Prada SS11 campaign, so cool! And I really see that direction as being quite predominant for spring.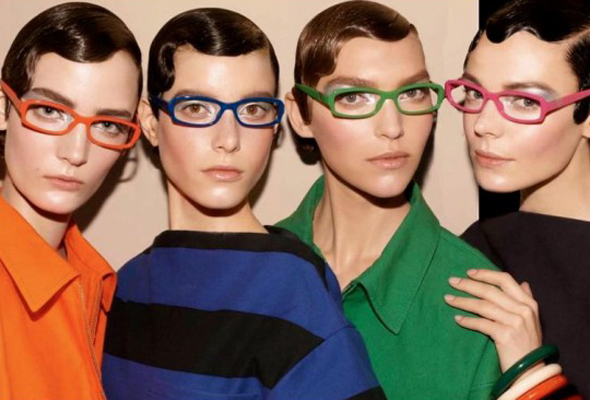 6. You have quite a few fashion clients. Show us your favorite patterned item from your closet.
My close friend Nanna has a label called Kokoon, and she does excellent prints. Her silk items are definitely my favourites! I always love Emma Cook's prints as well. My delicate silk dress from her is also a favourite.
7. What's been recently added to your bookshelf?
I was given a beautiful book by my boyfriend as a christmas present with one of my favourite painters Marlene Dumas "Measuring your own Grave".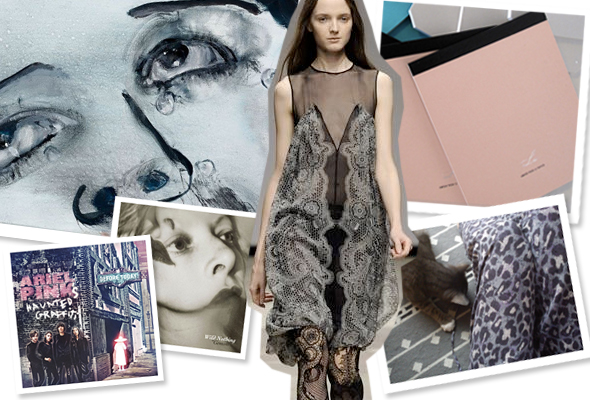 8. From a design perspective, do you see any trends or ideas you'd like to share?
Much in tune with your practice I think we will se a lot of strong COLOURS and also more dedication to details – both in print and making.
9. What is one design tool that you can't live without?
God what a kliché – my MAC! And my notebook from our own paper collection LA – Amour pour le Papier. Essential for writing down ideas on the move.
10. What is your ideal mix tape playlist for the day?
Top 10 listening to at the moment whilst working:
Wild Nothing "Confimation"
Ariel Pink's Haunted Graffitti "Fright Night (Nevermore)"
James Blake "The Wilhelm Scream"
Lykke Li "I Follow Rivers"
Washed Out "Feel it All around"
Two Door Cinema Club "This Is The Life"
Dum Dum Girls "It only takes one night"
Ducktails "Killin the Vibe"
LCD Soundsystem "New York I love you, but you're bringing me down"
Chet Baker "I Fall In Love too easily"
– Jessie Whipple Vickery